Welcome back to our Salvos Stores customer profiles series! This month's profile features digital content creator and marketing coordinator Bella de Almeida Reis. As a 22-year-old living in Melbourne's inner north, Bella certainly embodies the Melbourne 'cool girl' dream, but in a way that is all her own. Her effortless style, which combines vintage, thrifted, and local designer pieces, is somehow vibrant, classic, and creative all at once - testifying to versatility and fun that can come with truly embracing sustainable fashion.
So, without further ado we'll let you dive in to Bella's thoughts on what makes shopping second-hand worth your time, the homewares section, and the power of a well-placed compliment.
Tell us a little bit about yourself…
Hello! My name is Bella de Almeida Reis. I'm a 22-year-old living in Melbourne, and I work as the Marketing Coordinator at Frank Green. In my spare time, I love doing anything self-care related. Whether it's curling up with a book in my reading corner (I'm currently deep into Love & Virtue!), doing some yoga, watching the newest show on Netflix, or eating straight from a peanut butter jar - I'll be happy!   
How and when did you first get into op-shopping? 
My grandma is an avid thrifter. She took me to Salvos one day when I was 8 years old and it felt like I had struck gold! I thought 'Yes! I can finally spend my pocket money on so many cute knick knacks!' Like every grandma, they want to spoil you, so she would take me every time I asked to go on weekends. 
What do you enjoy or appreciate about buying second-hand? 
The thrill of searching through a messy pile for hours and finally finding the piece of your dreams. I like that it's a patient activity. It forces you to slow down, and you can appreciate items you might not usually reach for.  
What do you shop for the most in op-shops? What is your go-to section of a Salvos store?
I go nuts for the homewares, crockery, and glassware! Since I started styling my home, all I want is to add random pieces to elevate the spaces in interesting ways and op shops always have something special. I also find it much easier to sort through than clothing… that requires a whole other mentality! 
Can you tell us about the best purchase you have made in a Salvos store? 
I found a dreamy green trench-coat in a suburb I don't often visit in Melbourne, so it was definitely a lucky find. I tried it on as a whim because I liked the colour (this is key, if you're not sure, always try on in case) and the moment I came out of the dressing room, a random customer complimented the fit on me. That was all the confirmation I needed.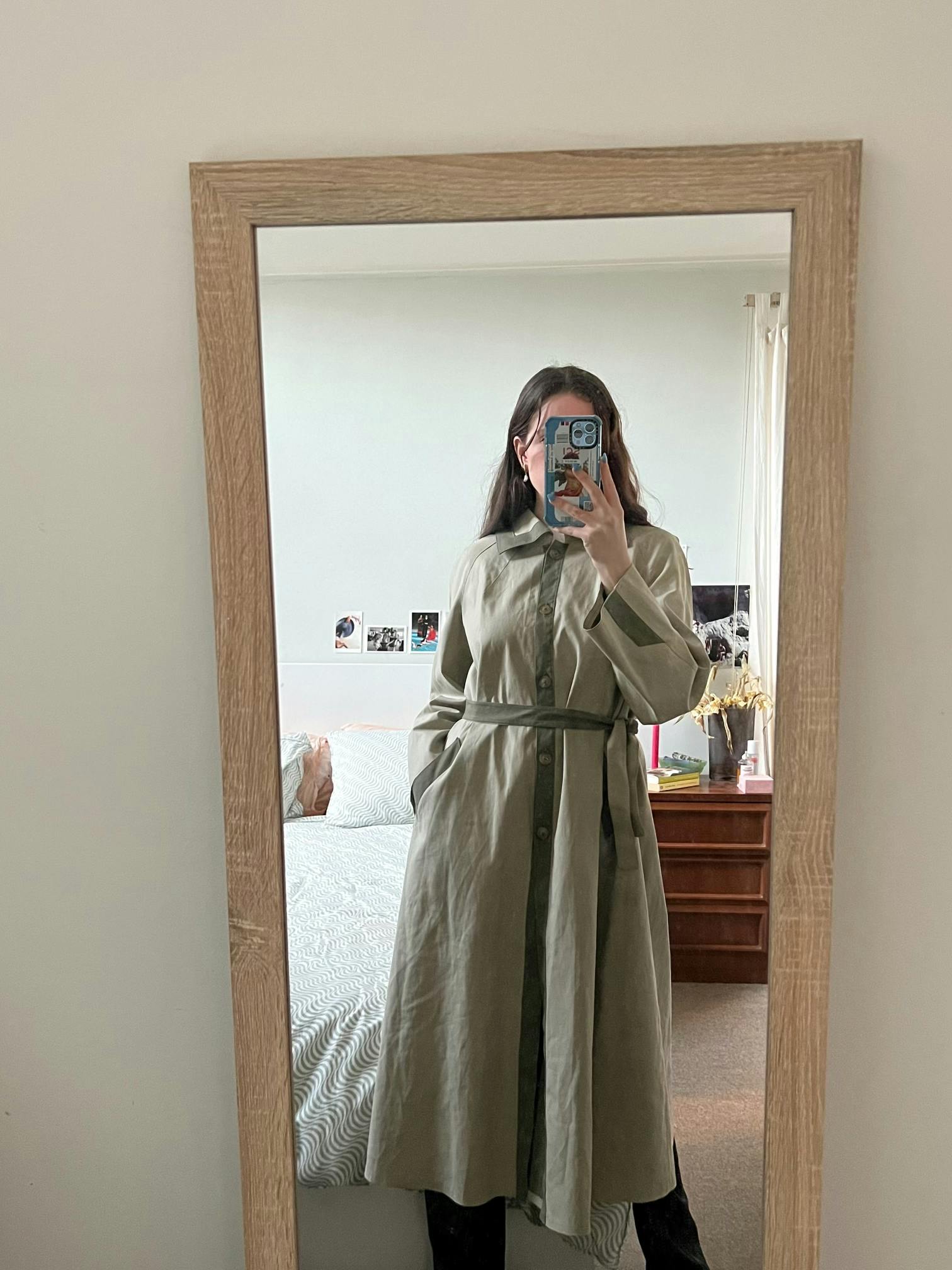 If you could manifest an item to find on your next Salvos visit, what would it be? 
The perfect pair of black heels. I am by no means a pro heel-wearer but that's also because I never seem to find the right ones that feel comfortable and are classicly simplistic (by the way, I'm a size 8-9 if anyone stumbles across some!).  
What is your best op-shopping tip?
If you have the means, I recommend going as often as you can. The stock can change almost every day and shopping becomes easier when you learn the store's way of categorising and organising. Also, thoroughly look through Every. Single. Thing. And I mean it! It's dedication but how else are you going to find the hidden gems? 
What would you say to someone to encourage them to get into op-shopping?
It's your one-stop-shop of affordable and sustainable options! You can get everything you need in a single store, plus you can find comfort in knowing you are supporting an ethical cause.
You can find Bella on Instagram @isabellachantal