Hello and welcome to a new series on the Salvos Stores blog that we're calling 'Customer Profiles'. In this series we ask some of our most creative and fashion-forward customers about what they love about shopping second-hand, their most prized thrifted items, and their best op-shopping tips. Switching to more sustainable shopping habits is not a one-size-fits-all process, but op shopping is something that can be enjoyed by all kinds of people with all kinds of lifestyles, tastes, and interests. This is what we want to celebrate in this series, and we hope that reading these profiles inspires you to explore your own unique op shopping identity.
Our first customer profile features none other than Faye De Lanty - long-time Salvos Stores ambassador and even longer time op shopping oracle. Faye is a passionate advocate for eco fashion with an impressive talent for blurring the lines between luxury and thrifted fashion by both scouring op shops for designer finds and expertly styling expensive-looking outfits with the most inexpensive second-hand items. We loved hearing what Faye had to say about the joys of op shopping and marvelling at her latest designer Salvos finds.
Tell us a little bit about yourself…
My name is Faye De Lanty, resident thrift stylist at Salvos Stores. Thrifting and second hand style is my life and love, I'm super passionate about inspiring the collective to see that op shopping is a total vibe for people and the planet, plus you never ever have to sacrifice style! 
How and when did you first get into op-shopping? 
I think I was born a thrifter! I spent my childhood exploring vintage and antiques stores with my parents so it's safe to say it's in my DNA…but fully taking it seriously…probably about 10 years ago. 
What do you enjoy or appreciate about buying second-hand? 
So many things! The fact I won't look like anyone else, I can vote with my dollar to support people and planet and I love the thrill of the treasure hunt! 
What do you shop for the most in op-shops? What is your go-to section of a Salvos store?
Everything! I look in every section but do have a fondness for the men's. It's a great way to score structure and great tailoring for a fraction of the price…but I think that cool, oversized fit looks great on a woman's body. Adore the homewares too, especially wooden, crystal and ceramic pieces 
Can you tell us about the best purchase you have made in a Salvos store? 
I've lost count! The thrift gods have for sure been on my side. But one of my favourite latest scores would have to be a vintage wool YSL navy men's blazer for $30! Oh and also my vintage Fendi Y2K black logo baguette for $5!!! Can you believe I found it at the bottom of the wallets!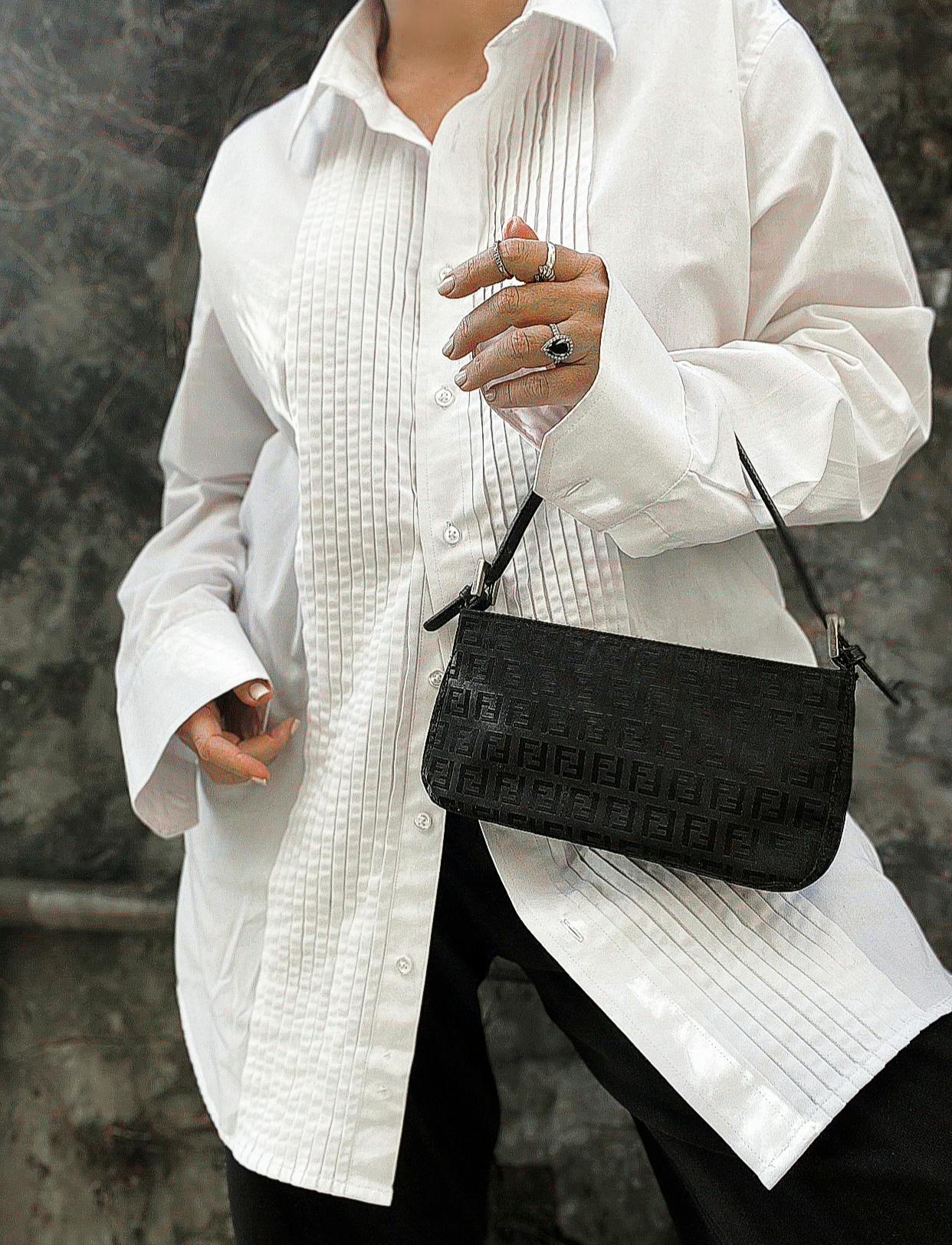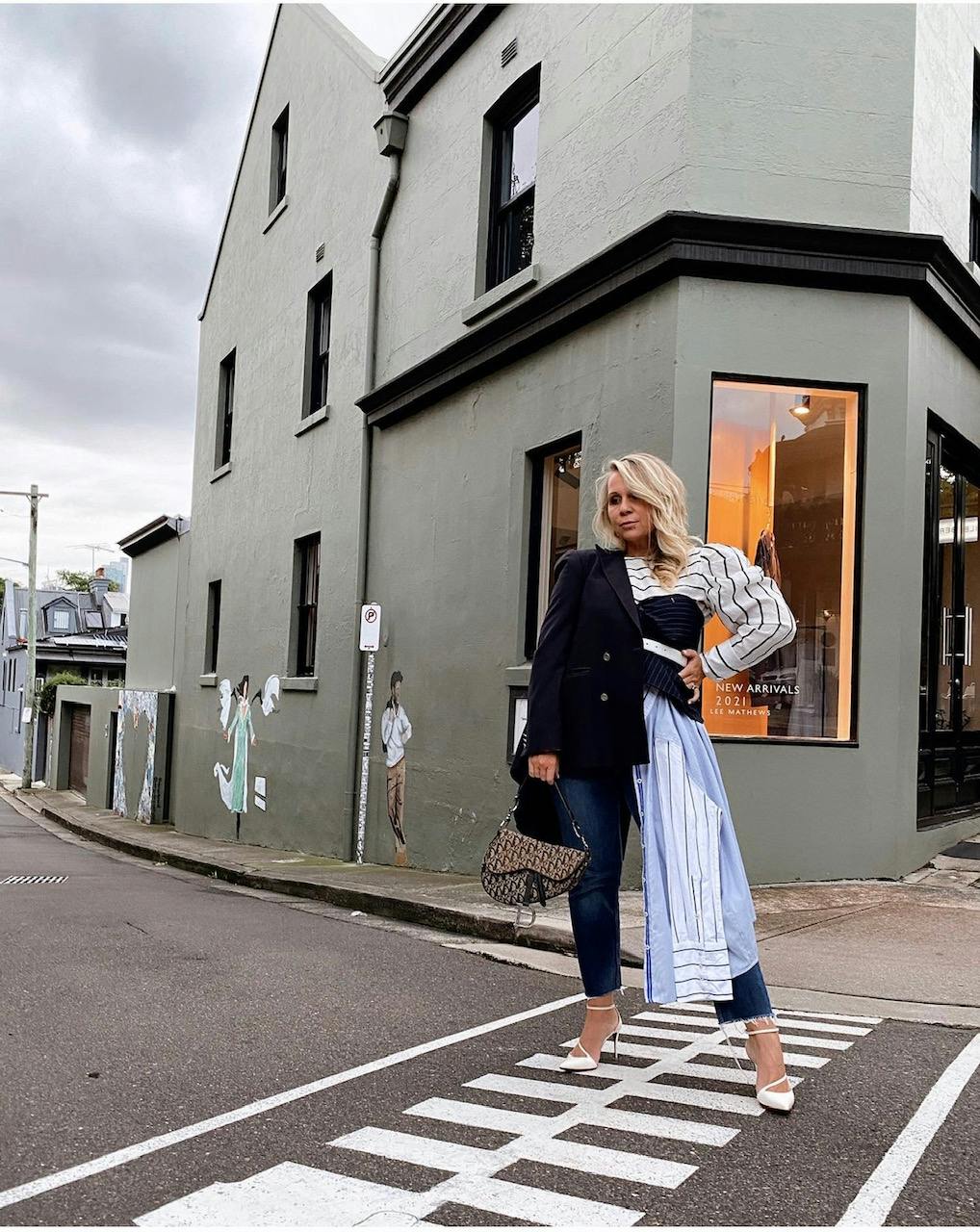 If you could manifest an item to find on your next Salvos visit, what would it be? 
A pure silk white or black maxi shirt dress with pockets! 
What is your best op-shopping tip?
Look everywhere, stay open, play, and try it on. Don't worry about size, section, brand or gender…that's the beauty of thrifting - it's like a giant dress up box filled with possibilities! 
What would you say to someone to encourage them to get into op-shopping?
In all honesty, thrifting has changed my life! It has saved me a tonne of cash, connected me to the story behind our clothes and really helped me to develop my own unique personal style expression.  As consumers we have the power to purchase with a purpose and I think that's so wonderful. Plus…it so much fun. 
You can find Faye on Instagram @fayedelanty or on her blog.